Vintage Rawlings Heart of the Hide Baseball Glove Wallet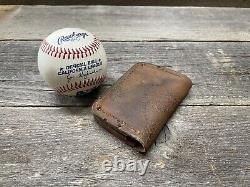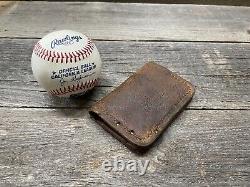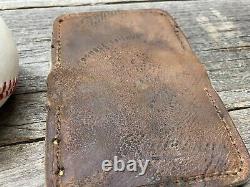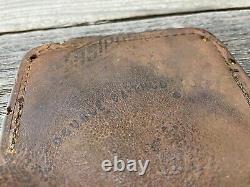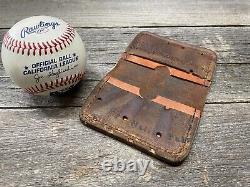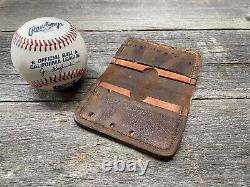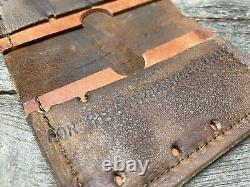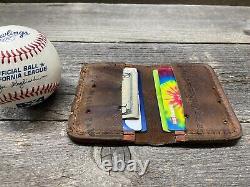 By Lakeshore Tannery/Baseball Glove Goods! Made using leather from a genuine. Vintage Rawlings Heart of the Hide baseball glove.
And Italian La Perla Azzurra leather for the inner pockets, we have created a unique looking wallet. Four pockets for credit cards and ID. Will fit tightly at first and break-in with use/time and fit 2-3 cards each.
This does not have a spot for cash (like a traditional bifold) but most people fold cash and put it in one of the four pockets. 4x6 inches when open, 4x3 inches when closed.
Great for a front pocket wallet (I use a similar glove wallet myself). This is made from a baseball glove, so it is not super slim.
Also, all leather is vintage so the leather can have markings on it. All leather is old stock. Important : The glove I made this wallet from was well used and quite worn.
Most of the stamped logos on this wallet are hard to read. Part of the Rawlings Heart of the Hide Bull logo is left on the backside, you have to hold the wallet at the right angle to see it.
Also, the "For The Professional Player" logo on the inner pocket is hard to make out as well. Other logos are hard to read too. Glove will need periodic glove conditioner to be applied, I recommend Pecard's on Amazon. Ball not included, shown for scale.
Leather is darker in photos due to conditioning, the leather will lighten up as the conditioner is absorbed.